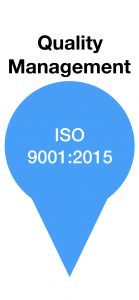 Your gateway to the market
The revision of ISO 9001 makes it much more straightforward. Thanks to its newly structured structure (high-level structure), it is closer to everyday practice. It is important to note that after a transitional period until 2018, the consideration of opportunities and risks will play a much more significant role in the future.
Consulting on ISO 9001
The ISO 9001 standard is a quality management system that is recognized worldwide. Once introduced, the integration of industry-specific standards can be implemented at any time. Certification, according to ISO 9001, thus becomes a stepping stone into the national and international market. Take advantage of this competitive advantage.
Benefit from the experience we have gained in many large consulting projects. Together with you, we can develop a quality management system that is precisely tailored to your needs. Lean and practice-oriented. It ensures more efficient structures, long customer loyalty – and significant savings in time and costs.
AGORA consultants are highly qualified. Thanks to their know-how, they can identify the essential improvement potentials during the introductory phase and take over the development and maintenance of quality management documentation. As part of the consultation, a short training course with workshop character is held, which promotes the understanding and awareness of your employees. And in our internal audits, we prepare you optimally for your certification audits. We can also support you when it comes to subsidies.