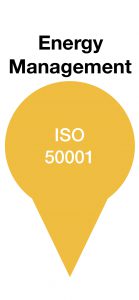 Energy management ISO 50001 (EnMS)
Sustained and efficient management
The international standard DIN EN ISO 50001 has clear objectives: The reduction of costs and environmental pollution, particularly greenhouse gas emissions. With the introduction of this energy management system, you plan the energy consumption of your company sustainably and efficiently. In contrast to ISO 14001, which stands for environmental performance, ISO 50001 refers to energy performance with technological requirements.
Comprehensive consulting on EnMS
As specialists for energy management systems, our team has extensive experience in dealing with ISO 14001 (UMS) and DIN EN 16001 (predecessor of ISO 50001).
We support you both in introducing the EnMS and in integrating it into your existing management system. With internal audits, which take place as part of the introduction of EnMS, we ensure optimal preparation for your certification audit – among other things through the principle of dual control. Even after that, we are there for you to keep your energy management system up to date.
About the EDL-G
According to the Energy Services Act (EDL-G) of 15 April 2015, an energy management system, according to ISO 50001, is recognized as one way of fulfilling the obligation of an energy audit. This offers companies that already have a management system, a cost-effective and time-saving way to meet the legal requirements. In contrast to the energy audit, according to DIN EN 16247, ISO 50001 also offers the advantage that identified measures to increase energy efficiency can be pursued directly and continuously, thus saving more energy costs overall.