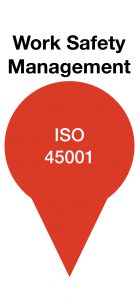 Work safety management ISO 45001
Protects employees – benefits the company
Companies are required by law to have an appropriate workplace safety organization. However, Work Safety Management (WSM) not only creates legal security but also offers you advantages that go beyond compliance with the requirements:
Benefits of work safety management:
Reducing costs – through fewer accidents at work
Higher employee motivation – through a healthy workplace
Better reputation – thanks to implemented occupational safety and health measures
Consulting and coaching for optimal work safety
As consultants, we accompany you during the introduction of work safety management, according to ISO 45001, taking into account both the legal requirements and the pragmatic implementation in the company. Do you already have a management system? Then we integrate it optimally.
Our supplementary seminars qualify your employees in the experienced handling of all requirements and the implementation of work safety management.
Significance and requirements ISO 45001
ISO 45001 replaced "OHSAS 18001" in June 2018. It created an ISO standard in occupational safety management, which, with the new High-Level Structure, is based even more closely on the structures of ISO 9001 and others. It allows the specific requirements of the WMS to be optimally implemented in an Integrated Management System (IMS) in terms of ISO 9001 and/or ISO 14001.
Requirements for the ISO 45001 include, e.g.:
The pursuit of continuous improvement
Employee awareness
Responsibilities of top management
Adherence to legal workplace safety requirements